ABOUT ARCHAEOLOGY



Parts of this page created with apologies to THE BLUFFERS GUIDE TO ARCHAEOLOGY, by Paul Bahn - Published by Oval - ISBN: 1902825470.
That great book will tell you all you need to know about the subject. For more info. go to oval books home page


ARCHAEOLOGISTS and THE PRACTICE OF ARCHAEOLOGY




Famous Quotes (I know who it was who said these things, but you will have to guess)



THE GREAT THING ABOUT BEING MARRIED TO AN ARCHAEOLOGIST IS THAT THEY GET MORE INTERESTED IN YOU AS YOU GET OLDER


ARCHAEOLOGY IS A BEAUTIFUL MISTRESS, BUT SHE BRINGS A POOR DOWRY


STUDY ARCHAEOLOGY AND YOUR CAREER WILL START AND END IN RUINS

ARCHAEOLOGISTS DO IT SYSTEMATICALLY ALL OVER THE LANDSCAPE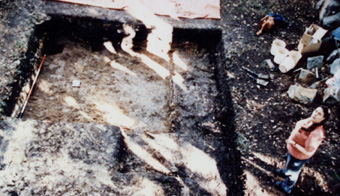 Here's an archaeologist wondering what the large square hole means.
So, what is ARCHAEOLOGY ?

Well... a pretty weird subject which involves ferreting around in the discards of other people. Archaeologists, or arkies for short, are pseudo scientific voyeurs who justify their existence by pretending that they are well informed seekers of THE TRUTH . Like the junk the arkies spend their time (and other people's money) on, this is absolute rubbish. The fact is, that since past people didn't leave explanations, let alone LABEL the objects which make up the archaeological record, even a stupid archaeologist (of which there are many) can pass themselves off as an expert through the use of long words and meaningless jargon. Archaeologists can easily impress non-arkies with their knowledge of the past essentially because most people's eyes will go out of focus and glaze over the minute words like "hypothesis" or "parameters" enter the conversation. Besides, since NOTHING is known about the distant past it is also extremely easy to pretend to be well informed, rather than a complete charlatan.

It takes particular qualities to engage in the practice of archaeology... these include:
* being able to tell convincing fibs;
* being a nosy parker, and (most essential)
* having an addiction to alcohol.
* lack of dress sense and wearing large boots also helps, especially if they are steel capped.

The widespread idea of arkies as whip wielding, untidy, filthy, scruffbags is ABSOLUTELY CORRECT . Everyone needs to be aware that when an archaeologist raves about their passion for the past and for knowledge, and for understanding of humanity and human development, they are undoubtedly

ARKIE TYPES

Field Archaelogists are known in the trade as DIRTY ARKIES.
This label refers accurately to their personal hygiene, appearance, and minds. These are the arkies who go out and survey to find things, although if asked directly they will deny any thought of treasure hunting and state some total twaddle such as "Oh, I go outdoors to find OUT things, not just to find things". These are also the arkies who have taken a vow of poverty prior to ever seriously embarking on a career.

Here's an archaeologist engaging in an obviously dubious field exercise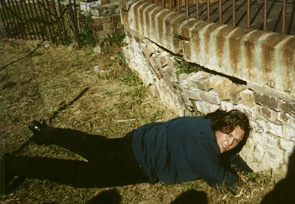 Armchair Archaeologists are known in the trade as CLEAN ARKIES.
These are a bunch of total losers who are utterly incompetent and don't like to get dirty. They justify their existence by commenting on other people's work, and in particular by criticising their methods and their findings. They deflect attention from their own inadequacies by pretending that Management Principles, Policy and Theory actually MEAN something. They all actually wanted to be ECONOMISTS but didn't get the marks necessary to enter the correct university course. Instead they got stuck in the Arts Faculty. They still resent it.

Modern Archaeological Techniques No.10 - OPEN CUT MINING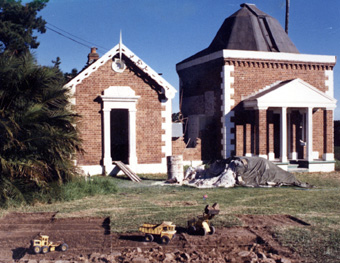 Each square in the above picture = 50 x 50 metres
This button will take you back to Siobhán's Main Page.


More will be added to this page in my next lifetime